Chamber module LW 1000 floor slab
Access LW 800,1638-1887 mm, K 3, wa.co.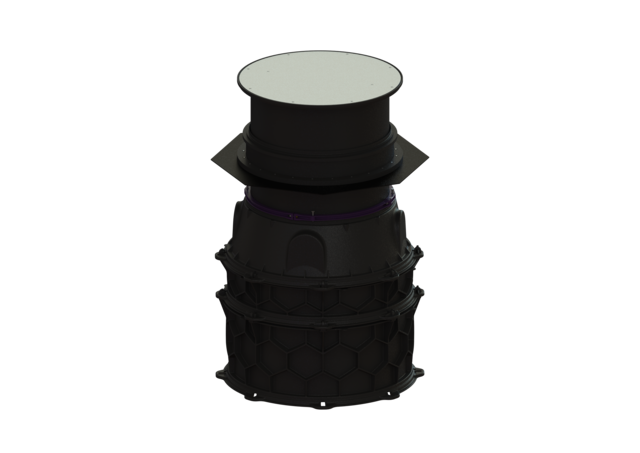 PDF product data sheet
The chamber module for wet or dry installation is equipped with fitted access steps in accordance with DIN EN 13101 and BGR 177, all the necessary seals and connecting wedges as well as a taper with vertically adjustable upper section. The intermediate sections made of permanently resistant polymer (PE) have universal connection possibilities. Thanks to the modular KESSEL system, the design can be flexibly combined with intermediate sections, taper, upper section and cover.
For modular assembly with simple connection segments and intermediate sections 250 and 500 mm high
Innovative honeycomb structure
Installation in groundwater up to 3000 mm
Vertically adjustable upper section available in LW 600 and LW 800 from class K 3 to class D
ideal for scoring up to DN 150
lift-protected
| | |
| --- | --- |
| Item no. | 8740226 |
| GTIN | 4026092093245 |
| Discount group | 3 |

Chamber module LW 1000 floor slab Access LW 800,1638-1887 mm, K 3, wa.co.
The chamber module for wet or dry installation is equipped with fitted access steps in accordance with DIN EN 13101 and BGR 177, all the necessary seals and connecting wedges as well as a taper with vertically adjustable upper section. The intermediate sections made of permanently resistant polymer (PE) have universal connection possibilities. Thanks to the modular KESSEL system, the design can be flexibly combined with intermediate sections, taper, upper section and cover. Version: Waterproof flange: yes Delivery state: Partly for on-site assembly (access steps have been pre-mounted in the factory) General characteristics: Colour: black Standard: EN 13598-2 Approval: Z-42.1-527 Dimensions: Length: 1,200 mm Width: 1,200 mm Tank: Inlet max. scoring (DN): 150 mm Installation depth: 1,638 - 1,887 mm Groundwater resistant from lower edge of base section: 3,000 mm Clear width of tank (LW): 1,000 mm Clear width of entry (LW): 800 mm Vertical adjustment: vertically adjustable upper section Coverage features: Type of cover: Round cover plate Cover material: Stainless steel Load class: K 3 (EN 1253-1) Height: 19 mm Tightness: surface water resistant Surface: anti-slip Locking: screwed
| | Title | Item no. | |
| --- | --- | --- | --- |
| | Joint for intermediate part | 680125 | |
| | Intermediate Part T-Chamber 250mm | 680370 | |
| | Intermediate Part T-Chamber 500mm | 680371 | |
| | T-Chamber connection pieces | 680373 | |
| | T-Chamber access steps | 680376 | |
| | Engineering Chamber access 800 mm | 680430 | |
| | Seal for channel passage 75 mm | 850116 | |
| | Seal for channel passage 110 mm | 850117 | |
Country of origin (ATTR-322): DE
- (ATTR-370):
Length (ATTR-A6A): 1,200 MMT
Width (ATTR-A6B): 1,200 MMT
Volume (ATTR-320): 3.9 MTQ
Packaging dimension: length (ATTR-325): 1,200 MMT
Packaging dimension: width (ATTR-326): 1,200 MMT
Packaging dimension: height (ATTR-327): 2,700 MMT
Dimensions (ATTR-323): 1200X1200X2700MM
Number of packages (ATTR-321): 0
Waterproof flange (ATTR-166): yes
Clear width of entry (LW) (ATTR-B13): 800 MMT
Clear width of tank (LW) (ATTR-B14): 1,000 MMT
Inlet max. scoring (DN) (ATTR-B1E): 150 MMT
Installation depth (ATTR-B2_VB): 1,638 MMT
Groundwater resistant from lower edge of base section (ATTR-B12): 3,000 MMT
Type of cover (ATTR-A21): Round cover plate
Load class (ATTR-A2B): K 3 (EN 1253-1)
Tightness (ATTR-A2C): surface water resistant
Locking (ATTR-A2D): screwed
Cover material (ATTR-A2E): Stainless steel
Surface (ATTR-A2F): anti-slip
Height (ATTR-A2P): 19 MMT
Diameter (ATTR-A107): 960 MMT
Net weight (ATTR-A3A): 154.7 KGM
Gross weight (ATTR-A3B): 174.8 KGM
Colour (ATTR-102): black
Standard (ATTR-9): EN 13598-2
Approval (ATTR-A5): Z-42.1-527
External monitoring (ATTR-A8): SKZ
Vertical adjustment (ATTR-177): vertically adjustable upper section
Delivery state (ATTR-189): Partly for on-site assembly (access steps have been pre-mounted in the factory)
Brand (M-ATTR-001): KESSEL
Product group (M-ATTR-002): Engineering system bases
Product type (M-ATTR-003): Chamber module
Product family (M-ATTR-004): Engineering chamber
Product name (M-ATTR-005): Engineering chamber