Universal Plus drain body
vert., backwater valve, Waterpr.concr.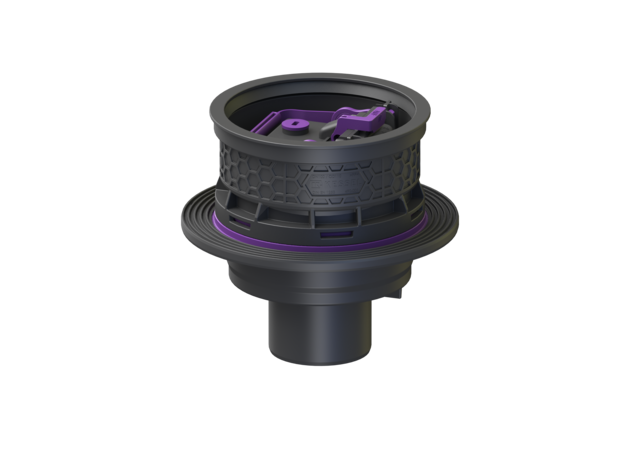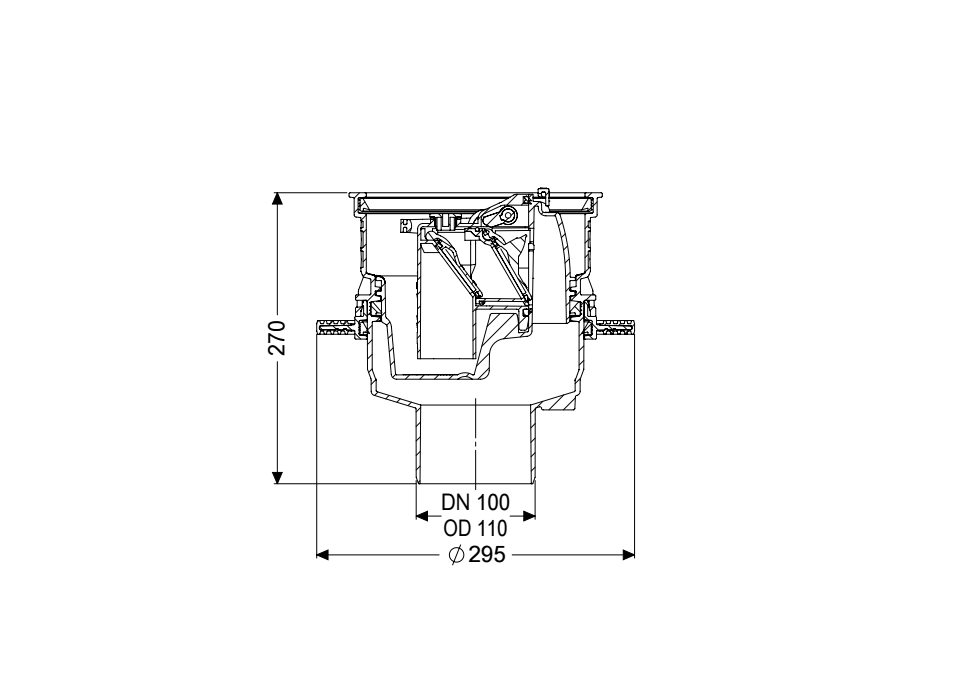 PDF product data sheet
In combination with an upper section, the polymer Universal Plus drain body is used for drainage of non-faecal wastewater and is equipped with a removable backwater valve with two backwater flaps, a one hand-lockable emergency closure and a sludge bucket. Including temporary protective cover. The drain is pressure-waterproof up to 0.6 bar (MFPA Leipzig tested) and radon-tight (IAF Radioökologie GmbH tested).
| | |
| --- | --- |
| Item no. | 27650 |
| GTIN | 4026092096932 |
| Price group | 10 |

Universal Plus drain body vert., backwater valve, Waterpr.concr.
In combination with an upper section, the polymer Universal Plus drain body is used for drainage of non-faecal wastewater and is equipped with a removable backwater valve with two backwater flaps, a one hand-lockable emergency closure and a sludge bucket. Including temporary protective cover. The drain is pressure-waterproof up to 0.6 bar (MFPA Leipzig tested) and radon-tight (IAF Radioökologie GmbH tested). Type of wastewater: wastewater without sewage Installation situation: floor slab installation Version: Emergency closure: yes Sealing water height: 60 mm Backwater protection: Type 5 Number of mechanical backwater flaps: 2 General characteristics: Nominal size (DN): 100 Colour: black Standard: EN 1253, EN 13564 Dimensions: Height: 270 mm Cutout dimension, length: 310 mm Cutout dimension, width: 310 mm Diameter: 295 mm Drain body: Socket version: vertical Vertical adjustment: vertically adjustable upper section Coverage features: Sludge bucket: yes
| | |
| --- | --- |
| Catalog Page | |
| Manuals | |
| CAD Data | |
| Test Reports and Certificates | |
| Declaration of Performance | |
Standard (ATTR-9): EN 1253
Backwater protection (ATTR-151): Type 5
Number of mechanical backwater flaps (ATTR-154): 2
Declaration of Performance (DOP) (ATTR-292): 009-225
Function in the event of backwater (ATTR-312): Protects in the event of backwater
Wastewater quantity (ATTR-310): Medium
Overall height (ATTR-313): min. 130 mm
Product type (M-ATTR-003): Drain body basement drain
Advantages text (M-ATTR-007): The basement drain with backwater valve for more flexibility in new buildings, suitable for waterproof concrete
Net weight (ATTR-A3A): 2.5 KGM
Gross weight (ATTR-A3B): 2.9 KGM
Sealing water height (ATTR-128): 60 MMT
Height (ATTR-A6C): 270 MMT
Diameter (ATTR-107): 295 MMT
Cutout dimension, length (ATTR-160): 310 MMT
Cutout dimension, width (ATTR-161): 310 MMT
Volume (ATTR-320): 0.0 MTQ
Packaging dimension: length (ATTR-325): 344 MMT
Packaging dimension: width (ATTR-326): 344 MMT
Packaging dimension: height (ATTR-327): 353 MMT
Dimensions (ATTR-323): 344X344X353MM
Number of packages (ATTR-321): 1
Sludge bucket (ATTR-A2K): yes
Emergency closure (ATTR-153): yes
Waterproof flange (ATTR-166):
Socket version (ATTR-233): vertical
Colour (ATTR-102): black
Type of wastewater (ATTR-6): wastewater without sewage
Installation situation (ATTR-1): floor slab installation
Vertical adjustment (ATTR-177): vertically adjustable upper section
Nominal size (DN) (ATTR-118): 100
Brand (M-ATTR-001): KESSEL
Product group (M-ATTR-002): Drains
Product family (M-ATTR-004): Universal Plus
Product name (M-ATTR-005): Universal Plus