Lifting station Aqualift S Compact
Tronic, GTF1200 res., Floor slab, tile.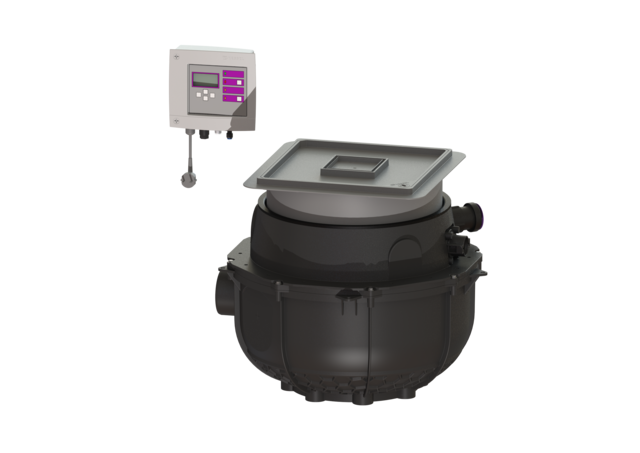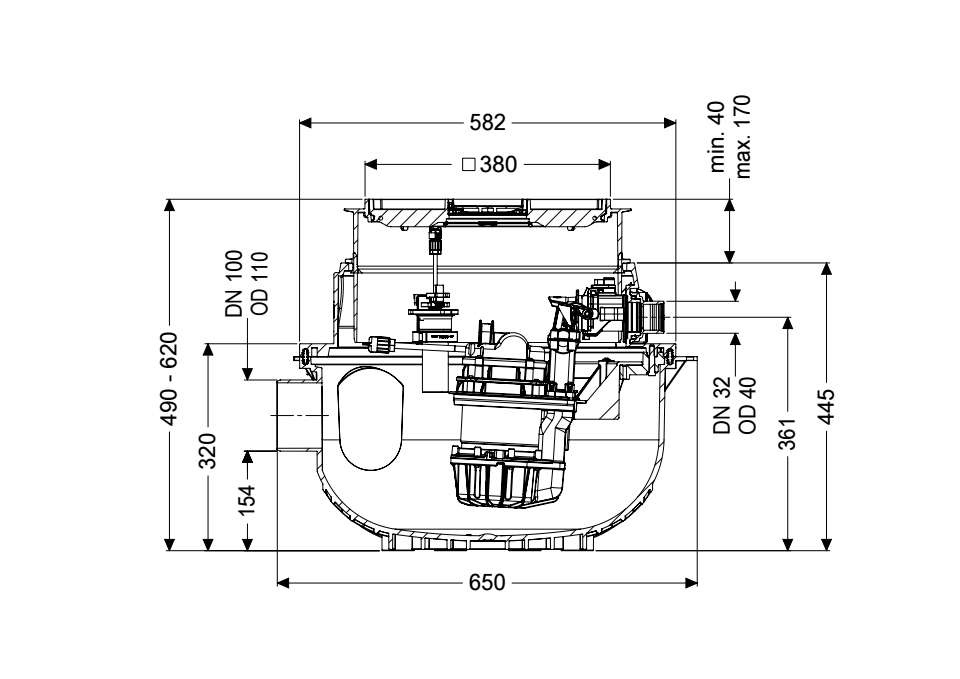 The ready to plug in lifting station for faecal-free wastewater is equipped with a submersible pump and a backflow preventer. The collection tank made of permanently resistant polymer (PE) has an open pump tank. One-handed closures enable easy removal of the integrated components. The system for installation in the floor slab is preassembled for final installation on site. The station is controlled optionally by a float switch (Mono) or a user-friendly control unit (Tronic and Duo), which are optionally integrated in the building management system via a potential-free contact or alarm and collective fault messages can be output via a GSM interface. - with telescopic upper section for continuously adjustable height and level compensation and integrated floor drain - collection tank made of PE, resistant to aggressive wastewater and 3 m groundwater - including backflow preventer for the pressure pipe - including sockets for inlet and cable conduit - pump with multi-vane impeller for maximum operating reliability
System ready to plug in

Easy retrofitting from Mono to Duo possible

Quiet operation, as the pump installation does not cause any structure-borne sound emissions.
| | |
| --- | --- |
| Item no. | 281250XC |
| GTIN | 4026092093726 |
| Price group | 20 |

Lifting station Aqualift S Compact Tronic, GTF1200 res., Floor slab, tile.
The ready to plug in lifting station for faecal-free wastewater is equipped with a submersible pump and a backflow preventer. The collection tank made of permanently resistant polymer (PE) has an open pump tank. One-handed closures enable easy removal of the integrated components. The system for installation in the floor slab is preassembled for final installation on site. The station is controlled optionally by a float switch (Mono) or a user-friendly control unit (Tronic and Duo), which are optionally integrated in the building management system via a potential-free contact or alarm and collective fault messages can be output via a GSM interface. - with telescopic upper section for continuously adjustable height and level compensation and integrated floor drain - collection tank made of PE, resistant to aggressive wastewater and 3 m groundwater - including backflow preventer for the pressure pipe - including sockets for inlet and cable conduit - pump with multi-vane impeller for maximum operating reliability Type of wastewater: wastewater without sewage Installation situation: floor slab installation Version: Type of system: Single station Pump control: Control unit Backflow preventer: integrated Resistant: Resistant to saline media, wastewater from water softening systems and wastewater containing condensate from heating systems Delivery state: Installation-ready (connection parts must be connected on site) General characteristics: Colour: black Standard: EN 12050-2 Dimensions: Length: 617 mm Width: 585 mm Tank: Inlet nominal size (DN): 100 Tank volume: 65 l Pumping volume: 20 l Pressure pipe connection (DN): 32 mm Pressure pipe connection (OD): 40 mm Installation depth: 490 - 620 mm Vertical adjustment: vertically adjustable upper section Coverage features: Type of cover: tileable cover plate Cover material: Polymer Colour of cover: silver grey Drainage function: yes Max. flooring height: 16 mm Load class: K 3 (EN 1253-1) Length: 366 mm Width: 366 mm Locking: Lock & Lift Free passage: 30 mm Pumping device: Number of pumps: 1 Max. pumping capacity: 15.5 m3/h Max. pumping height: 9 m Operating voltage: 230 V Mains frequency: 50 Hz Operating mode: S1 Power P1: 1.4 kW Power P2: 0.84 kW Speed: 2,650 U/min Type of fuse required (electrical protection): C 16 A Max. temperature (permanent) of conveyed material: 40 °C Connection type: coded plug Weight: 10 kg Impeller type: Multi-vane impeller Length of mains cable for pump: 5 m Rated current: 6.2 A Protection class (pump): IP 68 (3m) Protection class: I Type of pump connection cable: H07RN-F 3G 1.0 mm2 Insulation class: F Control: Control unit: Comfort Operating voltage: 230 V Mains frequency: 50 Hz Self-diagnosis system (SDS): yes Battery buffering: yes Multi-line display: yes Log book function: yes USB interface: yes GSM interface: yes Potential-free contact: optional Motor protection switch: yes Protection class control unit: IP 54 Length of mains cable for control unit: 1.4 m Type of level measurement: pneumatic Level measurement instrument: Immersion pipe Alarm sensor: optical probe
| | Title | Item no. | |
| --- | --- | --- | --- |
| | Remote signal generator 20 m cable, 2x0.75 q | 20162 | Show |
| | Basic warning device with electronic probe | 20222 | Show |
| | Basic warning device with optical probe | 20223 | Show |
| | Adapter DN 50/70 | 27126 | Show |
| | Adapter DN 100/70 | 27602 | Show |
| | Retrofit kit Alarm float switch | 28016 | Show |
| | Pressure pipe set 5 m pressure hose, DA 40 mm | 28040 | Show |
| | Compressor set for air bubbling | 28048 | Show |
| | Pressure pipe set with 5 m pressure hose, DA 50 mm | 28062 | Show |
| | Adapter for pressure connection PE DA40 | 28086 | Show |
| | TeleControl GSM modem for Comfort control units 230V/400V | 28792 | Show |
| | Aerial with magnetic base for TeleControl Modem, Cable 2.5 m | 28793 | Show |
| | Extension cable for aerial with magnetic base, L: 2 m | 28794 | Show |
| | Inlet socket DN 50, with seal, Threaded ring | 39005 | Show |
| | Inlet socket DN 70, with seal, Threaded ring | 39007 | Show |
| | Inlet socket DN 100, with seal, Threaded ring | 39100 | Show |
| | Odour trap Multistop, System 125 | 48500 | Show |
| | Odour trap Megastop | 48550 | Show |
| | Hair filter Polymer, for System 125 bathroom drains | 48700 | Show |
| | Hole saw for DN 50/70/100 | 500101 | Show |
| | Pressure hose Sold by the metre, 6x4 mm 100 | 680071 | Show |
| | Odour trap for The Ultraflat 79 | 680696 | Show |
| | Drain body for cover plate for odour trap 50 mm, black | 680795 | Show |
| | Drain body for cover plate for Multistop, black | 680796 | Show |
| | Drain body for cover plate for odour trap 50 mm, grey | 680797 | Show |
| | Drain body for cover plate for Multistop, grey | 680798 | Show |
| | Potential-free contact Additional circuit board for control units. | 80072 | Show |
| | Potential-free contact Extension set for control units Basic | 80074 | Show |
| | 10 m probe cable extension set | 80889 | Show |
| | Cable prolongation set for pump 10 m | 80891 | Show |
| | Cover, watertight, black | 830050 | Show |
| | Cover, watertight, tile-over | 830052 | Show |
| | Extension section H: 200 mm | 83070 | Show |
| | Extension section H: 234 mm, with flange and counter-flange | 83073 | Show |
| | Extension section H: 360 mm, with central flange | 83075 | Show |
| | Waterproof concrete install. kit OD: 40 mm, for building contractors | 83077 | Show |
| | Seal for pipe penetration, DN 50 | 850114 | Show |
| | Seal for channel passage 75 mm | 850116 | Show |
| | Seal for channel passage 110 mm | 850117 | Show |
| | Title | Item no. | |
| --- | --- | --- | --- |
| | Splash guard set for optical probe | 28706 | Show |
| | Control Unit Aqualift Comfort 230 V Mono | 28731 | Show |
| | Inlet socket DN 50, with seal, Threaded ring | 39005 | Show |
| | Locking key for Ecoguss slotted gratings, Lock & Lift | 67007 | Show |
| | One-handed closure for backflow preventer | 680018 | Show |
| | Battery 9 V block | 680034 | Show |
| | Pressure hose Sold by the metre, 6x4 mm 100 | 680071 | Show |
| | Seal for upper section, from 07/2014 | 680150 | Show |
| | Cover tileable, Lock & Lift, ABS | 680224 | Show |
| | Pump connection with seal and flap | 680475 | Show |
| | Release key for Lock & Lift | 680702 | Show |
| | Pressure pipe connection with seal and screws | 680758 | Show |
| | Pump connection Minilift, Aqualift S | 680760 | Show |
| | Flap housing Mono, with pump connector | 680761 | Show |
| | Turn fastener for pump connection lock | 680762 | Show |
| | Pump hanger for Aqualift S Compact, Mono, GTF 1200 | 680772 | Show |
| | Immersion pipe level measurement for Aqualift S Compact | 680776 | Show |
| | Fixing for immersion pipe for Aqualift S, Fastening clip, Screw | 680777 | Show |
| | Fixing for sensor for Aqualift S, Fastening clip, Screw | 680778 | Show |
| | Replacement pump GTF 1200 resistant, without float switch | 680952 | Show |
| | Seal for cover plate, System 330 mm | 686114 | Show |
| | Replacement set optical probe | 80888 | Show |
| | Adapter set optical probe | 80892 | Show |
| | KESSEL cover pl, tileable drainage funct | 830054 | Show |
| | Upper section System 400 | 830065 | Show |
| | |
| --- | --- |
| Catalog Page | |
| Manuals | |
| CAD Data | |
| Test Reports and Certificates | |
| Declaration of Performance | |
| Declaration of Conformity | |
External monitoring (ATTR-A8): LGA
Free passage (ATTR-180): 30 MMT
TÜV test mark (ATTR-376): ID 1111241937
- (ATTR-370):
Area of application (ATTR-264): drainage
Pump type (ATTR-265): Freestanding pump
Pump shaft position (ATTR-266): vertical
Pump design (ATTR-267): Dry rotor pump
Pump hydraulics (ATTR-268): single stage
Pump suction characteristic (ATTR-269): non-self-priming
Pump drive (ATTR-270): E-motor for alternating current
E-motor, type of startup (ATTR-271): direct
Pump casing material (ATTR-272): Polymer
Upper tolerance of the operating voltage (+) (ATTR-273): 10 PROZ
Lower tolerance of the operating voltage (-) (ATTR-274): 10 PROZ
Upper tolerance of the nominal frequency (+) (ATTR-275): 3 PROZ
Lower tolerance of the nominal frequency (-) (ATTR-276): 2 PROZ
Pump electrical connection (ATTR-277): 1/N/PE 230V
Startup circuit for three-phase connection or three-phase current (ATTR-278):
Motor pump shaft (ATTR-279): continuous
Shaft seal (ATTR-280): RSSR
Number of operating pumps (ATTR-281): 1
Minimum pumped media temperature (ATTR-282): 0 CEL
Maximum operating pressure (Pmax) (ATTR-283): 900 HPA
Minimum speed for speed adjustment (ATTR-284): no speed adjustment
Vertical installation (ATTR-286): yes
Pump (ATTR-4):
Number of pumps (ATTR-181): 1
Impeller type (ATTR-8): Multi-vane impeller
Type of pump connection cable (ATTR-N2): H07RN-F 3G 1.0 mm2
Type of fuse required (electrical protection) (ATTR-N3): C 16 A
Operating mode (ATTR-10): S1
Power P1 (ATTR-F4): 1.4 KWT
Power P2 (ATTR-F5): 0.8 KWT
Speed (ATTR-F2): 2,650 UMIN
Operating voltage (ATTR-131): 230 VLT
Mains frequency (ATTR-N4): 50 HTZ
Rated current (ATTR-N5): 6.2 AMP
Max. pumping capacity (ATTR-F7): 15.5 MQH
Max. pumping height (ATTR-F8): 9 MTR
Max. temperature (permanent) of conveyed material (ATTR-132): 40 CEL
Protection class (ATTR-133): I
Connection type (ATTR-N1): coded plug
Protection class (pump) (ATTR-125): IP 68 (3m)
Length of mains cable for pump (ATTR-11): 5 MTR
Weight (ATTR-191): 10 KGM
Insulation class (ATTR-193): F
Net weight (ATTR-A3A): 17.8 KGM
Gross weight (ATTR-A3B): 19.3 KGM
Type of system (ATTR-2): Single station
Backflow preventer (ATTR-165): integrated
Pump control (ATTR-134): Control unit
Resistant (ATTR-338): Resistant to saline media, wastewater from water softening systems and wastewater containing condensate from heating systems
Type of cover (ATTR-A21): tileable cover plate
Colour of cover (ATTR-A2A): silver grey
Load class (ATTR-A2B): K 3 (EN 1253-1)
Locking (ATTR-A2D): Lock & Lift
Cover material (ATTR-A2E): Polymer
Drainage function (ATTR-A2H): yes
Max. flooring height (ATTR-A2L): 16 MMT
Length (ATTR-A2M): 366 MMT
Width (ATTR-A2N): 366 MMT
Inlet nominal size (DN) (ATTR-B1CA): 100 MMT
Installation depth (ATTR-B2_VB): 490 MMT
Pressure pipe connection (DN) (ATTR-B17): 32 MMT
Pressure pipe connection (OD) (ATTR-B18): 40 MMT
Tank volume (ATTR-B9): 65 LTR
Pumping volume (ATTR-B10): 20 LTR
Length (ATTR-A6A): 617 MMT
Width (ATTR-A6B): 585 MMT
Volume (ATTR-320): 0.2 MTQ
Packaging dimension: length (ATTR-325): 600 MMT
Packaging dimension: width (ATTR-326): 600 MMT
Packaging dimension: height (ATTR-327): 480 MMT
Dimensions (ATTR-323): 600X600X480MM
Number of packages (ATTR-321): 1
Control unit (ATTR-S2): Comfort
Self-diagnosis system (SDS) (ATTR-S5): yes
Battery buffering (ATTR-S6): yes
Multi-line display (ATTR-S7): yes
Log book function (ATTR-S8): yes
USB interface (ATTR-S9): yes
GSM interface (ATTR-S10): yes
Potential-free contact (ATTR-S11): optional
Length of mains cable for control unit (ATTR-S12): 1.4 MTR
Operating voltage (ATTR-S13): 230 VLT
Mains frequency (ATTR-S14): 50 HTZ
Protection class control unit (ATTR-S4): IP 54
Alarm sensor (ATTR-S1): optical probe
Type of level measurement (ATTR-7A): pneumatic
Level measurement instrument (ATTR-7B): Immersion pipe
Motor protection switch (ATTR-172): yes
- (ATTR-S21):
- (ATTR-S22):
- (ATTR-S23):
Installation situation (ATTR-1): floor slab installation
Vertical adjustment (ATTR-177): vertically adjustable upper section
Declaration of Performance (DOP) (ATTR-292): 009-085
Wastewater quantity (ATTR-310): Medium
Type of wastewater (ATTR-6): wastewater without sewage
Declaration of conformity (ATTR-303): 009-076
Colour (ATTR-102): black
Standard (ATTR-9): EN 12050-2
CE marking (ATTR-A5B): yes
Delivery state (ATTR-189): Installation-ready (connection parts must be connected on site)
Brand (M-ATTR-001): KESSEL
Product group (M-ATTR-002): Lifting stations
Product type (M-ATTR-003): Lifting station
Product family (M-ATTR-004): Aqualift S
Product name (M-ATTR-005): Aqualift S Compact
Start-up current (ATTR-285): 14.9 AMP
Country of origin (ATTR-322): DE