Ferrofix drain body
Sys 125, DN 100, Vert. outlet, Press. fl.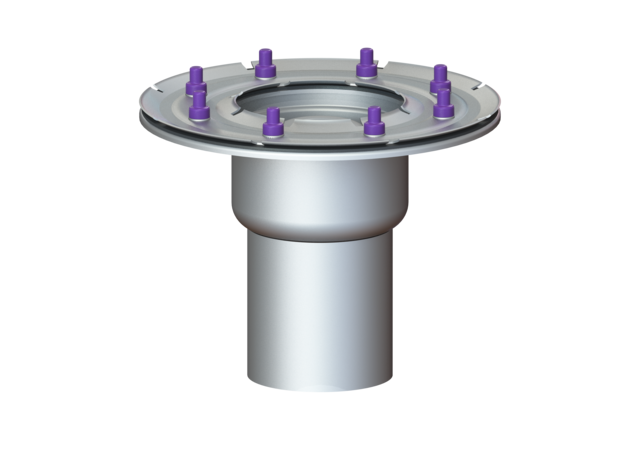 PDF product data sheet
In combination with a System 125 upper section, the Ferrofix stainless steel drain body is used for point drainage and is equipped with a removable odour trap and a temporary protective cover. The pressure sealing flange with bolts and screws made of stainless steel is used for the clamping or welding of bitumen and polymer bitumen sheets as well as for polymer and elastomer sealing sheets. Only the sealing sheets tested by the manufacturer may be used for watertight seals. The outlet socket is suitable for connection to SML cast iron pipes.
Made of particularly hygienic and mechanically highly resistant stainless steel
Variably combinable with upper sections
| | |
| --- | --- |
| Item no. | 54230 |
| GTIN | 4026092053683 |
| Discount group | 3 |

Ferrofix drain body Sys 125, DN 100, Vert. outlet, Press. fl.
In combination with a System 125 upper section, the Ferrofix stainless steel drain body is used for point drainage and is equipped with a removable odour trap and a temporary protective cover. The pressure sealing flange with bolts and screws made of stainless steel is used for the clamping or welding of bitumen and polymer bitumen sheets as well as for polymer and elastomer sealing sheets. Only the sealing sheets tested by the manufacturer may be used for watertight seals. The outlet socket is suitable for connection to SML cast iron pipes. Version: System: 125 Odour trap: included Waterproofing layer on the drain body: Press sealing flange (suitable for creating watertight seals) Sealing water height: 50 mm General characteristics: Nominal size (DN): 100 Outer diameter (OD): 110 Standard: EN 1253-1 Dimensions: Length: 273 mm Width: 273 mm Height: 201 mm Tank: Number of outlets: 1 ST Drain body: Material of drain body: Stainless steel 14301 Socket version: vertical Discharge rate (l/s) with 20 mm backwater: 2 l/s
| | Title | Item no. | |
| --- | --- | --- | --- |
| | Ferrofix upper section Sys 125, with conn. socket DN 50, L 15 | 48435 | |
| | Variofix upper section Slotted cover, 304 SST, anti-slip, L 15 | 48907 | |
| | Variofix upper section Slotted cover, 304 SST, K 3 | 48963 | |
| | Variofix upper section Slotted grating, 304 SST, L 15 | 48965 | |
| | Ferrofix upper section Sys 125, Slotted cover, 146 x 146 mm, K 3 | 48977 | |
| | Ferrofix cleanout Sys 125, tileable, odour-tight | 54910 | |
| | Ferrofix cleanout Sys 125, Gl fl., tileable, odour-tight | 54911 | |
| | Ferrofix cleanout System 125, odour-tight | 54912 | |
| | Ferrofix cleanout Sys 125, Gl fl., odour-tight | 54913 | |
| | Ferrofix upper section Sys 125, Slotted grating, 150 x 150 mm | 54914 | |
| | Ferrofix upper section Sys 125, Gl fl., Slotted grating, 146x146 mm | 54915 | |
| | Ferrofix upper section Sys 125, Slotted grating, 200 x 200 mm | 54916 | |
| | Ferrofix upper section Sys 125, Gl fl., Slotted grating, 200x200 mm | 54917 | |
| | Ferrofix upper section Sys 125, Gl fl., Slotted cover, 146x146 mm | 54919 | |
| | Cleanout Sys 125, ABS, Cover plate 304 SST, screwed | 54920 | |
| | Title | Item no. | |
| --- | --- | --- | --- |
| | Fire protection insert Fire-Kit 100, for DN 50, 70, 80 | 48099 | |
| | Fire protection insert Fire-Kit 100, for DN 100 | 48100 | |
| | Extension section H: 136 mm, without inlet | 48987 | |
| | Extension section H: 136 mm, with side inlet DN 50 | 48989 | |
| | Quick-Fit pipe penetration seal for core drillholes, with fire protection | 48990 | |
| | Extension section System 125, with pressure sealing flange | 54187 | |
| | Extension section System 125, side inlet DN 50/40 | 54189 | |
| | Extension section System 125, 304 stainless steel | 54900 | |
| | Extension section System 125, with glued flange | 54901 | |
| | Extension section System 125, Side inlet DN 50 | 54902 | |
| | Extension section System 125, horiz Inlet DN 50, Gl fl. | 54903 | |
| | |
| --- | --- |
| Catalog Page | |
| CAD Data | |
| BIM Data | |
Nominal size (DN) (ATTR-118): 100
Waterproofing layer on the drain body (ATTR-250): Press sealing flange (suitable for creating watertight seals)
Temperature class (ATTR-253): A
Complete article (ATTR-254): no
Electrical connection available (ATTR-256): no
Connection to the BCS, BAC (ATTR-257): no
Type of drainage (ATTR-260): Point drain
Type of drainage (ATTR-263): open channel
- (ATTR-340):
TÜV test mark (ATTR-376): ID 1111244461
Advantages text (M-ATTR-007): The robust solution made of particularly hygienic and mechanically highly resistant stainless steel
Country of origin (ATTR-322): SI
Outer diameter (OD) (ATTR-147): 110
Discharge rate (l/s) with 20 mm backwater (ATTR-157): 2 LTS
Length (ATTR-A6A): 273 MMT
Width (ATTR-A6B): 273 MMT
Height (ATTR-A6C): 201 MMT
Volume (ATTR-320): 0.0 MTQ
Packaging dimension: length (ATTR-325): 280 MMT
Packaging dimension: width (ATTR-326): 280 MMT
Packaging dimension: height (ATTR-327): 260 MMT
Dimensions (ATTR-323): 280X280X260MM
Number of packages (ATTR-321): 0
Number of outlets (ATTR-B15B): 1 PCE
Material of drain body (ATTR-232): Stainless steel 14301
Socket version (ATTR-233): vertical
Odour trap (ATTR-115): included
System (ATTR-244): 125
Net weight (ATTR-A3A): 2.3 KGM
Gross weight (ATTR-A3B): 2.9 KGM
Standard (ATTR-9): EN 1253-1
Sealing water height (ATTR-128): 50 MMT
NDOP (ATTR-304): 009-057
Wastewater quantity (ATTR-310): Medium
Overall height (ATTR-313): min. 130 mm
Product class, temperature rating (ATTR-223): A
Brand (M-ATTR-001): KESSEL
Product group (M-ATTR-002): Drains
Product type (M-ATTR-003): Drain body
Product family (M-ATTR-004): Ferrofix
Product name (M-ATTR-005): Ferrofix